Going away from home to college can be a difficult experience. Not only do you have to adapt to the new college life, new responsibilities, new work load, and perhaps a new job, but you also have to cope with being away from home. Homesickness is horrible!
Here are some ways you can keep in contact with your loved ones.
1. Talking on the phone:
While you are walking 15 minutes to class, simply pull out your phone, dial someone's number and talk to them until you get to class. Usually I call my mom or day, sometimes even my brother (who always answer with "what do you want?").
2. Skype/ Face time
This usually works best for me when I have been studying for hours straight. I use it as a study break usually lasting for about 30 minutes. It helps you relax and keep in touch. With oovoo you can "skype" with multiple people for free, but you may want to have a pretty decent WiFi connection so that it doesn't disconnect.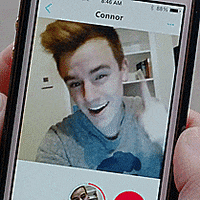 3. Writing a letter
With today's technology, writing a letter is old fashion and some people call it snail mail. Since hand written letters are rare, it is a great way to share things with people and everyone loves receiving a thoughtful, handwritten note from a loved one. Don't know what to write in your letter? Include things that are coming up or that you have done, special events you have attended, your first concert, or the first time you had to present to a 200 people. Attach a printed picture (gasp!) and you can even decorate the letter to make it more personal. Getting crafty can really help relieve some stress!
Staying in contact with your loved ones can be an easy thing to forget, especially when midterms and finals are happening. By staying in contact you can reduce homesickness and stay connected to your family. 
Hope everything went great with midterms!
Daisy