Karaoke night. Has been one of my biggest fears. You become the center of attention, everyone is watching your every moment, every word you say, how you say it, are you on beat, is your tone right? Everyone is expecting it to be like the first scene of the movie High School Musical,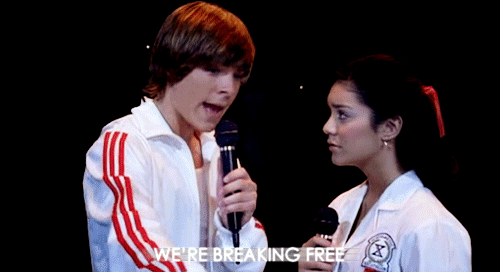 yet you know deep down inside that it will not be like this…
It was on a Saturday and it was my brother's birthday. We have the music on, the food was delicious, the kids are playing and running around everywhere. Then the karaoke machine was pulled out. Oh no.. Everyone is impatiently waiting for it to be set up and I was just hoping, wishing that I will not be called out. As my luck would have it, I jinxed myself and everyone started to chant, "Daisy, Daisy, Daisy, Daisy".
I tried to avoid it but they were not letting it go so easily. My Tía from California came and pushed me towards the center and handed me the microphone. There was no escaping, I was too committed already. My Tía said to me that it was time to join the family´s tradition of singing karaoke, to break out of my shell. She told me she would sing with me. She typed in the song "Colgando en tus manos" by Carlos Baute and Marta Sanchez. The song started playing and I immediately recognized it. As the butterflies in my stomach continued flying around my legs were shaking (probably everyone could see it). I was super nervous but I knew my Tía was right. She started the song off and I sang the complementing version to this duet. I may not have sounded like a professional but it was a thrill to sing in front of everyone. Yes, I did mess up a couple of times but everyone just kept cheering me on and singing with us. It was amazing. Next time I will certainly sing again. I learned my lesson: don't be afraid to try new things.
Daisy