As a business major, the ability to present in front of audiences, both small and large, is integral to my success. Currently, in my first semester at the Eller College of Management, many of my professors are stressing the concept of communicating ideas whether through writing or speaking. For me, business writing makes a lot of a sense. Speaking, on the other hand, is a different story…
Luckily for me (sarcasm), my finance professor is aware of the necessity of public speaking in business. For that reason, in the form of extra credit, we are given the opportunity to present a finance-related article before the lecture. Might I add, we do this in front of a class comprised of over 200 people. Needless to say at this point, public speaking does not rate high on my list of favorite activities. However, finance exams are hard, and I knew that I would need the extra credit. So, I needed to get myself up there without looking like this: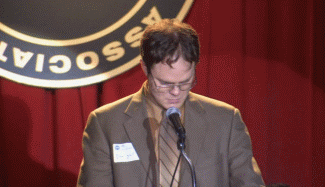 Or this: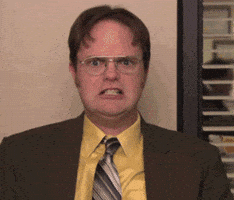 Basically, looking like Dwight K. Schrute = unacceptable for an in-class presentation. I have to admit, before going up there, as corny as it sounds, I could feel my heart jumping in my chest. It's so silly because I knew that nobody in the class had my bullet points in their minds. It's not like they would even be able to tell if I messed up content wise! But nevertheless, there I was feeling like the audience was waiting for me to deliver an Oscar-level, compelling, heartfelt, and tear-jerking speech…about finance.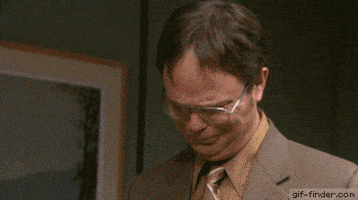 Honestly, the presentation it wasn't so bad. Surprisingly, I am not just saying that. I think the key to delivering a good presentation, especially when you have presentation anxiety, is having a firm understanding of the content you are delivering. If you know what you're talking about, you are going to appear knowledgeable, and in turn, you will project confidence.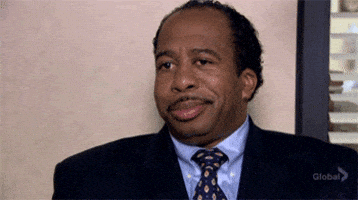 So no, my presentation was not Oscar worthy. However, it also didn't kill me! If you have a presentation like me, I hope that my little story might encourage you to get in front of an audience. If not, I hope you at least enjoyed my .gifs from The Office. (Great show, highly recommend). Good luck!
-Amna