The past few weeks have felt like an extremely busy time for me in comparison to other months. Because of some annoying but very necessary time-consuming activities, my adventurous side had to take it a bit easy for this month's blog. Despite how much I wanted to go sky-diving or back-pack through the jungle for a few days, I decided a much better and more efficient use of my time was to go see a movie. Solo. A solo date night at the movies, if you will.
Now, I'm not against spending time alone. In fact, I absolutely love it! It's actually incredibly beneficial and important for people to learn to spend time alone comfortably. However, I had yet to go out and do things, other than grabbing a bite to eat, I would normally do with friends by myself. So, the movies seemed like a great way to get started.
It was pretty awesome if I do say so myself. I watched Beauty and the Beast (again, because I love it so much), had my own little popcorn and drink, and no one to focus on other than myself. Of course, it's normal to feel a little bit uncomfortable at first. You're in a public place, doing an activity that is usually done in pairs if not larger groups of people. But you soon realize that it doesn't matter and, in all honesty, that the people around you don't even care.
If you're ever bored or just want to spend some alone time with yourself, I highly recommend going out to see a movie. Maybe even start out a little more slowly by grabbing lunch or dinner. There's really nothing better than being comfortable in your own space doing whatever it is that you feel like doing!
Take it from Alan, he has a right idea…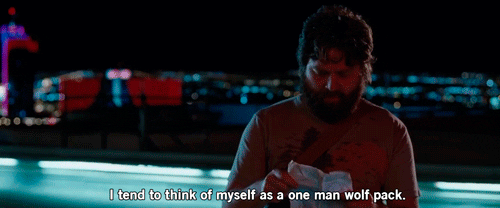 -Diana